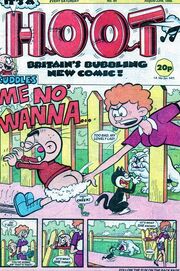 Hoot
was a weekly humour comic published by
D.C. Thomson
from 26th October 1985 to 25th October 1986, a total of 53 issues (though it billed itself as "Britain's bubbling new comic" throughout). It had a cover price of twenty pence, represented by a stylised drawing of a 20p coin. The last new humour title from D.C. Thomson to feature mostly new characters (though several characters from previous publications also appeared) it was eventually merged with
The Dandy
.
Featured strips
In addition, four frame mini-strips featuring established characters from other titles appeared in each issue, including Big Uggy, Julius Cheeser, Desert Island Dick, Foxy and King Gussie from the Topper; Dennis the Menace, Big Eggo, The Bash Street Kids, The Three Bears, Lord Snooty, Roger the Dodger and Biffo the Bear from the Beano; The Badd Lads and Colonel Blink from the Beezer; Bananaman and Jay R. Hood from Nutty; and Desperate Dan from the Dandy; as well as Tarzan Stripes and Flip 'n' Flop.
Ad blocker interference detected!
Wikia is a free-to-use site that makes money from advertising. We have a modified experience for viewers using ad blockers

Wikia is not accessible if you've made further modifications. Remove the custom ad blocker rule(s) and the page will load as expected.