Ad blocker interference detected!
Wikia is a free-to-use site that makes money from advertising. We have a modified experience for viewers using ad blockers

Wikia is not accessible if you've made further modifications. Remove the custom ad blocker rule(s) and the page will load as expected.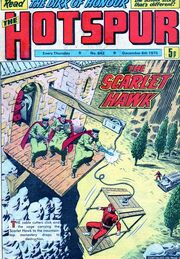 Hotspur was a
D.C. Thomson
publication which began life as a story paper (text stories with occasional illustrations) for boys on 2nd September 1933 and ran for 1197 issues until 17th October 1959. It was relaunched as
The New Hotspur
, now consisting of all comic strips, a week later on 24th Octber 1959, though the 'New' was dropped with issue #174. The new title lasted 1110 issues, finally ending on 24th January 1981 and merging with
Victor
, although
Hotspur Annuals
continued to be published until at least 1984.
Features included Coral Island by Bill Holroyd, Jonny Jett by Dudley D. Watkins (this was a reprint), Union Jack Jackson, Limp-Along Leslie by Bert van de Put, The Wolf of Kabul by J.T Higson, Nick Jolly and King Cobra by Ron Smith, Zigimar the Master Spy by Terry Patrick, The Scarlet Hawk, Napper Todd, Wilson, Spring Heeled Jack by Steve Chapman, Red Star Robinson by Terry Patrick, I Fought in the Battle of Britain by Ian Kennedy, the superheroic X-Bow and later, after The Crunch was merged into Hotspur, sci-fi strip Starhawk and The Doom Wardens by Alcatena, amongst others. The comic was notable for the sheer imaginativeness of its strips, which were often utterly fantastical.