Doctor Travis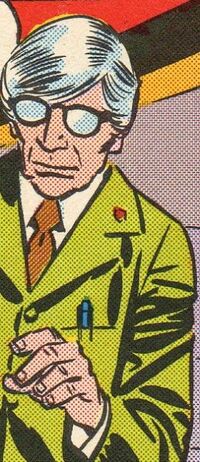 Current alias
Doctor Travis
Base of operations
Darkmoor Research Centre
Characteristics
Status
Origin
Origin
Normal human birth
History
Dr Travis was the chief scientist at the Darkmoor Research Centre and the mentor of Brian Braddock. When the villainous Reaver attacked the centre in order to steal their research into a new fusion process, Travis was stunned but Braddock escaped and later defeated the villain after being granted the power of Captain Britain. Years later, Travis asked Braddock to return to Darkmoor in order to help him with a new project: generating energy using particles of antimatter. Unfortunately, the project was almost immediately attacked again, this time by the cyborg mercenary Assassin-8. Poor old Dr Travis appears to be jinxed.

Powers and abilities
Abilities
Nuclear science; leadership skills.
Strength level
Elderly human male who gets regular light exercise.

Paraphernalia
Equipment
Everything needed to research nuclear fusion.
Weapons
None.

Notes
Travis's first name was eventually revealed in The Official Handbook of the Marvel Universe, and was finally confirmed 35 years after his first, and until then only, appearance, in Marvel Heroes #34 (May 2011).
Links
Discover and Discuss
Ad blocker interference detected!
Wikia is a free-to-use site that makes money from advertising. We have a modified experience for viewers using ad blockers

Wikia is not accessible if you've made further modifications. Remove the custom ad blocker rule(s) and the page will load as expected.