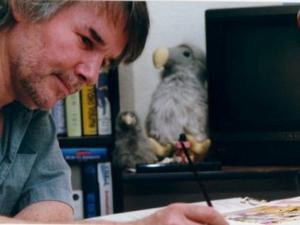 Ian Gibson (born 1946; a.k.a. Q. Twerk or Emberton) is a comics artist best known for his work on
2000 AD
in the 1980s and since, particularly on the strips
Judge Dredd;
Robo-Hunter
; 
Anderson, Psi-Division
and
The Ballad of Halo Jones
. He also worked on less well-known series including
Walter the Wobot;
I Was a Teenage Tax Consultant;
The Mind of Wolfie Smith;
Tharg;
The Amazing Maze Dumoir;
Ro-Jaws' Robo-Tales;
Project Overkill;
Ace Trucking Co.
and
Banzai Battalion
.
Gibson has worked for Marvel UK on Genghis Grimtoad, for Warrior on Big Ben, The Man With No Time for Crime, for American publishers DC Comics on Mister Miracle, Millennium and Green Lantern Corps, for Marvel Comics on X-Men Unlimited, for Dark Horse on Star Wars, for First Comics on Meta-4 and for Eclipse on Steed & Mrs Peel, amongst others.
Ad blocker interference detected!
Wikia is a free-to-use site that makes money from advertising. We have a modified experience for viewers using ad blockers

Wikia is not accessible if you've made further modifications. Remove the custom ad blocker rule(s) and the page will load as expected.