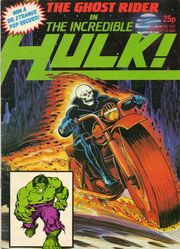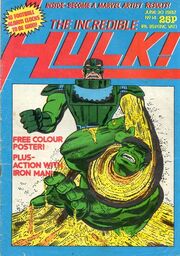 Incredible Hulk (not to be confused with the earlier
Hulk Comic
) was a weekly title launched by
Marvel UK
on 21st March 1982. It featured reprints from the American Marvel comics Incredible Hulk, Iron Man, Ghost Rider and What-If? at various points as well as the UK originated humour strip
Hulk the Menace
, and frequently included colour posters in its centre section (at other times, the four centre pages would simply be colour comic strip). Notably, issues #18-21 carried four sections of a four part pull-out X-Men poster,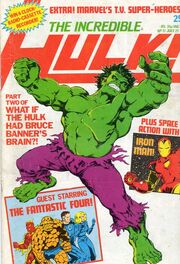 issue #27 had a poster sized reproduction of the cover of the American Hulk #1, and issues #2-3 carried parts of a two part poster of TV Hulk Lou Ferrigno! Issue #1 also had a free gift, a cut-out 'walking Hulk'.
The title was cancelled after #27 (29th september 1982) and merged with Spider-Man.