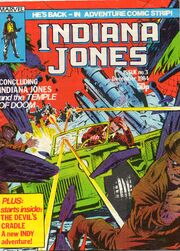 Indiana Jones was a monthly magazine published by
Marvel UK
from October 1984 to August 1985, initially reprinting the Marvel US adaptation of the movie
Indiana Jones & the Temple of Doom
in serialized chunks before moving on to reprint new, Marvel originated adventures of the intrepid archeologist from the US title 'The Further Adventures of Indiana Jones'. The title only ran 11 issues in total, though an Indiana Jones Winter Special was also published in November 1984. Upon the cancellation of the magazine, the Indiana Jones strip moved into the back pages of
Spider-Man
for a short time, and was later reprinted in
The Incredible Hulk Presents
.
Marvel UK had also earlier published a one shot reprinting the comics adaptation of the first Jones movie, Raiders of the Lost Ark, in 1981.
Ad blocker interference detected!
Wikia is a free-to-use site that makes money from advertising. We have a modified experience for viewers using ad blockers

Wikia is not accessible if you've made further modifications. Remove the custom ad blocker rule(s) and the page will load as expected.