Iron John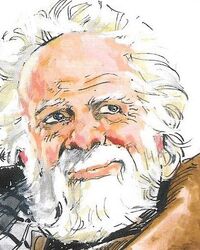 Relatives
Eisenhans (father, deceased); Henri Blanik (brother, deceased)
Base of operations
Mobile
Characteristics
Status
Education
Taught by father
Origin
History
Iron John was a character in the 2000 AD strip The Order. Before the start of the strip he and his brother were members of the Order, a cadre of warriors dedicated to protecting medieval Europe from supernatural threats. While fighting the otherworldly monsters known as 'wurms' he was saved from being sucked into their dimension by his German comrade Siegfried Kohl. Because his brother died in the battle John believed that he, too, should have died a hero's death, as his father had taught him. From the moment Siegfried saved him he had a life-long hatred of Germans. John became something of a recluse, with only his wolf Grendel for company.
Years later John met Siegfried's daughter Anna Kohl and was reunited with his brothers-in-arms Ritterstahl, Schmidt and Blazen as they fought off a second wurm invasion. A grumpy old curmudgeon with a heart of gold and a lethal axe-swing, John gradually warmed to Anna despite initially being highly suspicious of her. In fact, almost the last thing he did before his death was to save her life. He eventually died doing what he loved best: slaughtering wurms in the catacombs below Prague, in 1210 AD. So did Grendel.

Powers and abilities
Abilities
Armed combat.
Strength level
"Strong as an ox" and "solid as an oak" (according to
Blazen
).
Weaknesses
Slightly senile; illiterate.

Paraphernalia
Transportation
Refuses to ride a horse because they are for the old and the idle.
Weapons
Huge double-bladed axe.

Notes
In 1580 AD, Anna Kohl (who is gifted with an unnaturally long life-span) hallucinated Iron John and Grendel when she was under the influence of 'wyrm musk'.
Ritterstahl later created a huge man-shaped machine with which to invade the wyrm-world, and called it 'Iron John'. It was equipped with rocket launchers, flamethrowers and a huge axe.
Links
Discover and Discuss
Ad blocker interference detected!
Wikia is a free-to-use site that makes money from advertising. We have a modified experience for viewers using ad blockers

Wikia is not accessible if you've made further modifications. Remove the custom ad blocker rule(s) and the page will load as expected.