Uncle Ivor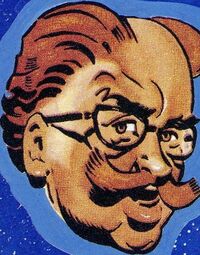 Characteristics
History
Ivor Dare is a research scientist, and the uncle of Colonel Dan Dare. He has dedicated much of his life to the study of the planet Mars, and has also worked closely with the Cosmobes, the tiny aqua-scientists of I-Cos. Eccentric and volatile, he is nonetheless fond of his nephew and unfailingly brave in a crisis situation.

Powers and abilities
Abilities
Keen scientific mind.
Weaknesses
Occasionally too curious for his own good.

Notes
Versions of Ivor have featured in Dan Dare stories in both Eagle in the 1950s/60s and the New Eagle of the 1980s/90s.
Links
Discover and Discuss
Ad blocker interference detected!
Wikia is a free-to-use site that makes money from advertising. We have a modified experience for viewers using ad blockers

Wikia is not accessible if you've made further modifications. Remove the custom ad blocker rule(s) and the page will load as expected.