Isobel Sinclair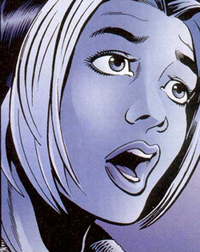 Real name
Isobel Sinclair
Aliases
Izzy Somebody; Izzy S.
Relatives
Sandra and Les Sinclair (adoptive parents)
Characteristics
Status
Origin
Origin
Normal human birth
History
Izzy was the adoptive daughter of Sandra and Les Sinclair, but preferred to call herself 'Izzy S' (for 'Somebody') because of her uncertain origins. As a seventeen year old sci-fi fan and amateur paranormal investigator living in the town of Stockbridge, she met the wandering Time Lord known as the Doctor (then in his eighth incarnation) through their mutual friend Maxwell Edison and ended up accompanying him on his travels, without telling her adoptive family.
Izzy's alienation was worsened when her mind became trapped in the body of the amphibious alien woman Destrii for a time and she believed that her own body had been disintegrated. After the Doctor managed to restore the two women to normal Izzy finally came to terms with her personal issues and returned to Earth to be reconciled with her adoptive parents. The Doctor returned her to the day she left, so that from their point of view Izzy had never been gone at all. She later set off to travel the world.

Paraphernalia
Transportation
The TARDIS.

Notes
Izzy has also appeared outside comics, in the Big Finish Doctor Who audio story Izzy's Story, voiced by Jemima Rooper.
Izzy was the Doctor's first openly gay companion, and was aided in coming to terms with her sexuality by the Doctor's friend Fey Truscott-Sade.

Trivia
Izzy's birthday was 12th October 1979, the date that the first issue of Doctor Who Weekly was published.
Links
Discover and Discuss
Ad blocker interference detected!
Wikia is a free-to-use site that makes money from advertising. We have a modified experience for viewers using ad blockers

Wikia is not accessible if you've made further modifications. Remove the custom ad blocker rule(s) and the page will load as expected.