Jamie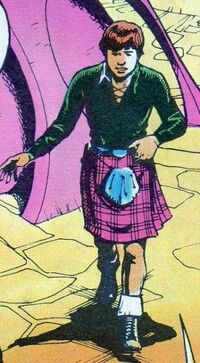 Real name
James Robert McCrimmon
Characteristics
Status
Origin
Origin
Normal human birth
History
Jamie McCrimmon was a Scots Highlander who first encountered the second incarnation of the time traveller known as The Doctor in 1745. Jamie chose to become one of the companions of the Doctor and travelled with him, Ben and Polly (originally), Victoria Waterfield (before her departure) and Zoe Heriot for some years before being returned to his own time, his memories of his travels erased by the Time Lords. (The same fate befell Zoe.) Not particularly bright but loyal and as brave as a lion, he was one of the Doctor's longest serving companions, facing threats such as the Daleks and the Quarks.
According to one account, Jamie's memories gradually returned and he eventually met the Doctor again as an old man, sacrificing his life to defeat the Cybermen.

Powers and abilities
Strength level
Human male who gets regular exercise.

Paraphernalia
Transportation
The
TARDIS
.
Weapons
His little dirk.

Notes
Jamie (played by Frazer Hines) was the longest serving television companion of the Doctor, and also the first television companion to be included in the long running Doctor Who strip in TV Comic. He also appeared in three editions of the Doctor Who Annual, as well as a number of the Marvel UK strips, including The World Shapers by Grant Morrison, in which he was killed off. This story's canonicity is dubious at best, however, particularly since it also claims that the Cybermen evolved from the alien Voord. Oh, and it's also a sequel to The Fishmen of Kandalinga, from the first World Distributors Doctor Who annual. Keep taking the tablets, Grant...

Trivia
The comic strip in Doctor Who Adventures introduced a companion named Heather McCrimmon, who is a descendant of Jamie.
Links
Discover and Discuss
Ad blocker interference detected!
Wikia is a free-to-use site that makes money from advertising. We have a modified experience for viewers using ad blockers

Wikia is not accessible if you've made further modifications. Remove the custom ad blocker rule(s) and the page will load as expected.