Jane Gay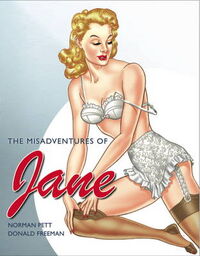 Relatives
Jane (daughter); Jane (granddaughter)
Base of operations
England
Characteristics
Status
Occupation
Bright Young Thing
Origin
Origin
Normal human birth
History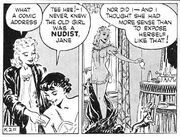 Jane Gay was a bright young thing from the 1930s whose life revolved around society, romance and her pet dachshund Fritz until the dawn of World War II, when she offered her services to the Army and became the driver and PA of "the Colonel." She had a series of often hair-raising adventures, most of which coincidentally involved her losing her clothes at various points. Her arch-foe was the languorous foreign floozy Lola Pagola, a Nazi spy. On 10th October 1959, the seemingly ageless Jane sailed off into the sunset with long-time boyfriend Georgie Porgie. Her granddaughter, also called Jane, had a series of adventures in the 1980s, drawn by
John M. Burns
. Others who worked on various incarnations of the strip included
Alfred Mazure
(who drew
Jane, Daughter of Jane
from 1961-63) and writer
Les Lilley
.
Powers and abilities
Abilities
Driving army vehicles; secretarial skills.

Notes
Jane was one of Britain's longest running newspaper strips, running from December 1932 to October 1959, being replaced by her own daughter in the early sixties and then being briefly revived in the 1980s (though that Jane was the granddaughter of the original). The strip's creator, Norman Pett, drew it until 1949 when Mike Hubbard took over. Pett also wrote the strip from 1932 to 1938, when Don Freeman took over for the remainder of its run.
Jane was something of a phenomenon in the 1940s, and was considered to be something of a forces sweetheart. Pett originally based Jane on his wife Mary, but later hired Chrystabel Leighton-Porter to be his life model, and during the war years she would make numerous personal appearances in character for the benefit of the troops. The wartime Jane strips were notorious for Jane's frequent inadvertent nudity, and it has long been remarked upon that Jane's first fully nude appearance came immediately before the British army made a significant advance in North Africa.
Jane's regular supporting cast was comparatively small, usually restricted to a few boyfriends — such as Basil and, later, Georgie Porgie — her employer the Colonel, her nemesis Lola Pagola and her ever faithful dachshund, Fritz.
Jane has been adapted for stage and screen several times. Chrystabel Leighton-Porter played her in the 1949 movie The Adventures of Jane, while Kirsten Hughes starred in the 1987 film Jane & the Lost City, also starring Sam Jones, Maud Adams (as Lola), Graham Stark, Robin Bailey... and Jasper Carrott, who appeared as an entire family of Nazi agents! Glynis Barber starred as Jane in a short-lived TV series which ran for two seasons between 1982 and 1984, the first titled simply 'Jane', the second 'Jane in the Desert' (Barber briefly appeared topless in the final episode).
Many of the strips were reprinted in the collected edition Jane at War Vol 1.

Trivia
Jane's strip was originally entitled Jane, the Diary of a Bright Young Thing.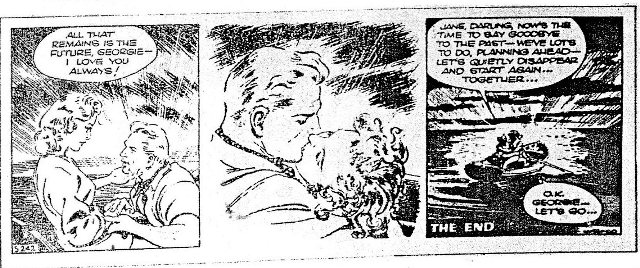 Links
Discover and Discuss