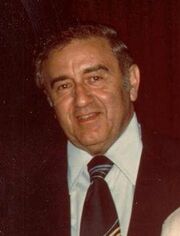 Jerome 'Jerry' Siegel was a comics writer born in Cleveland, Ohio on Octoberr 17th 1914, and is best remembered as one half of the duo who created
Superman
(the other half being artist
Joe Shuster
). He also self published perhaps the world's first Science Fiction fanzine, 'Cosmic Stories' in 1929, and-along with Shuster-actually created Superman publisher National Comics oldest established still recurring character,
Dr Occult
in
New Fun
#6 in October 1935. He later worked for numerous other publishers including Marvel Comics,
Charlton Comics
and Britain's own
IPC
, for whom he chronicled the adventures of crook turned crimebuster
The Spider
in the pages of
Lion
from 1965-1969, succeeding the character's creator
Ted Cowan
from the third story onward. Siegel severed ties with National (later DC Comics) after unsuccessfully challenging them in court over the rights to Superman in 1946, and again in 1967. He died on January 28th 1996, aged 81.
Ad blocker interference detected!
Wikia is a free-to-use site that makes money from advertising. We have a modified experience for viewers using ad blockers

Wikia is not accessible if you've made further modifications. Remove the custom ad blocker rule(s) and the page will load as expected.