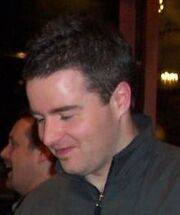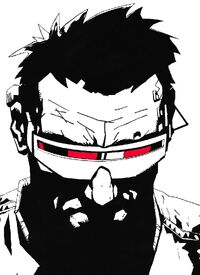 Mark Simpson, also known as Jock, is a British comics artist and writer who was born in 1972 in Scotland and is not yet dead. His website is
here
. He has produced several covers for
2000 AD
and the
Judge Dredd Megazine
and was the main concept designer for the movie
Dredd
. Jock has also contributed art and concept designs to
Batman Begins
and
X-Men: Days of Future Past
.
For 2000 AD Jock has drawn Pulp Sci-Fi, Judge Dredd and Tor Cyan. For the Judge Dredd Megazine he has drawn more Judge Dredd, Snapshot and Lenny Zero.
In 2001 Jock won the National Comics Award for 'Best New Talent' for his work on Judge Dredd (tied with Frazer Irving, who received the accolade for Necronauts). He has also been awarded a Stan Lee Award for 'Best Ongoing Series' (for Detective Comics, with Scott Snyder and Francesco Francivilla).
In London in 2011 Jock helped to set two Guinness World Records, 'Fastest Production of a Comic Book' and 'Most Contributors to a Comic Book'.1
In 2017 Jock contributed a one-page humour strip to the 2000 AD 40th Anniversary Special which featured Judge Dredd interrupting a party being held by Anderson, Hershey, Devlin Waugh, the Dark Judges, Walter the Wobot and Mean Angel.
Praise
Andy Diggle: "I specifically remember the image that sold me on his work, it was just a Dredd headshot but a very bold, stark headshot, black and white line-art headshot of Dredd, and I just thought it was amazing — it looked like Mount Rushmore, this kind of gravitas, the kind of sternness, the kind of weight to it, a heft. And I loved it, and it's not often I have a visceral reaction to artwork." Interview in Undercover Brothers, volume 18 of Judge Dredd: The Mega Collection.

1Along with David Baillie, Douglas Braithwaite, Ian Churchill, Oliver Coipel, Duncan Fegredo, Simon Furman, Dave Gibbons, David Lafuente, John McCrea, writer Mark Millar, Sean Phillips, Frank Quitely, John Romita Jr., Liam Sharp and Leinil Yu.
Ad blocker interference detected!
Wikia is a free-to-use site that makes money from advertising. We have a modified experience for viewers using ad blockers

Wikia is not accessible if you've made further modifications. Remove the custom ad blocker rule(s) and the page will load as expected.