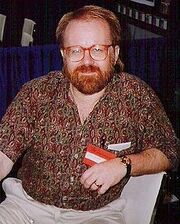 John Lindley Byrne (born July 6th 1950) is a comics artist and writer born in West Bromwich, though his family emigrated to Canada when he was eight. He attributes his lifelong love of comics to
DC Comics
reprints and to seeing
The Adventures of Superman
on the BBC. He broke into comics as an artist in 1974 and has since worked for most of the major (and many of the minor) American publishers, including notable stints both writing and drawing characters including
Superman
,
Batman
,
Wonder Woman
,
Captain America
, the
X-Men
,
Spider-Man
,
Hulk
, Alpha Flight, the Doom Patrol, the
Fantastic Four
, Iron Man, She-Hulk and the
Avengers
. As far as British comics go, he drew the
Judge Dredd
story in the 1983
2000 AD Sci-Fi Special
(see left). He now lives in America.
Ad blocker interference detected!
Wikia is a free-to-use site that makes money from advertising. We have a modified experience for viewers using ad blockers

Wikia is not accessible if you've made further modifications. Remove the custom ad blocker rule(s) and the page will load as expected.