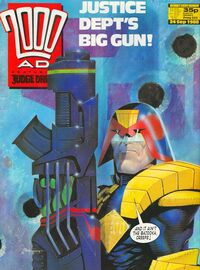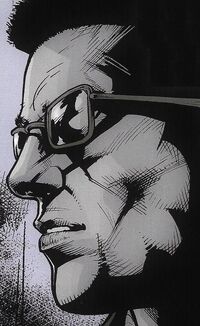 John Higgins, a.k.a. Turmoil, whose website can be found
here
, is a British comics artist, writer and occasional letterer who was born in 1949 in Liverpool. He left school when he was 15, joined the army and later spent time in a commune in Wiltshire. Higgins qualified in technical illustration at an art college on the Wirral in 1974 and became a medical illustrator, before deciding to branch out into comics.
Higgins was first published in Brainstorm in 1975, and drew the cover for 2000 AD prog 43 in 1977. He went freelance in 1978, and in 1981 he started getting regular work for 2000 AD, which included:
For Marvel UK, he collaborated with Simon Furman on Death's Head. In the mid 1980s John Higgins became part of the 'British invasion' of American comics and ended up doing the colouring on Watchmen (drawn by Dave Gibbons) and Batman: The Killing Joke (drawn by Brian Bolland). He has since worked on dozens of comics and strips, including:
More Greysuit
More Judge Dredd (for the Judge Dredd Megazine and 2000 AD)
Chopper (for 2000 AD)
Razorjack (a creator-owned title aimed at older readers which was written, drawn and coloured by Higgins)
Spider (for 2000 AD)
More of Tharg's Future Shocks
Thunderbolt Jaxon (a re-imagined version for US company Wildstorm)
Vector 13 (for 2000 AD)
Ad blocker interference detected!
Wikia is a free-to-use site that makes money from advertising. We have a modified experience for viewers using ad blockers

Wikia is not accessible if you've made further modifications. Remove the custom ad blocker rule(s) and the page will load as expected.