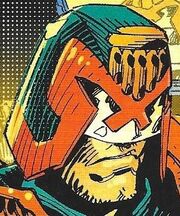 John McCrea is a comics artist from Northern Ireland. He works primarily in American comics (one of his best known being his collaboration with
Garth Ennis
on
Hitman
for DC Comics) but has also worked on:
John McCrea was also involved in Strip: The Adventure Comics Magazine before its untimely disappearance from the nation's newsagents. In London in 2011 he helped to set two Guinness World Records, 'Fastest Production of a Comic Book' and 'Most Contributors to a Comic Book'.1

1Along with David Baillie, Douglas Braithwaite, Ian Churchill, Oliver Coipel, Duncan Fegredo, Simon Furman, Dave Gibbons, David Lafuente, Jock, Mark Millar, Sean Phillips, Frank Quitely, John Romita Jr., Liam Sharp and Leinil Yu.
Ad blocker interference detected!
Wikia is a free-to-use site that makes money from advertising. We have a modified experience for viewers using ad blockers

Wikia is not accessible if you've made further modifications. Remove the custom ad blocker rule(s) and the page will load as expected.