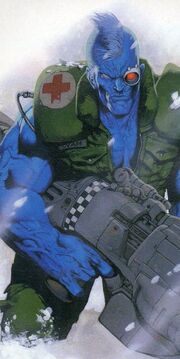 John Tomlinson is a comics writer and editor who worked at
Marvel UK
in the early 1990s on
Digitek
and
Knights of Pendragon
and has also worked for various other companies including
Atomeka Press
(on
The Lords of Misrule
). He is probably best known however, for his work on
2000 AD
and the
Judge Dredd Megazine
, including periods spent as editor of both publications (2000 AD from 1994 to 1996, and the Megazine briefly in 1996).
Strips he wrote for the 2000 AD stable include Armoured Gideon, Mercy Heights (and its spin-off series Tor Cyan), Judge Dredd, Tharg, Vector 13, Venus Bluegenes, Rogue Trooper, Crocodile Tears, Space Girls, Brigand Doom, Cursitor Doom (in the 2000AD Action Special) and Tharg's Future Shocks. While in the Nerve Centre he was known as script droid Automo-Tomlinson.
Tomlinson also co-created a Doctor Who strip, The Betrothal of Sontar, with Nick Abadzis and Mike Collins for Doctor Who Magazine in 2006. He has since worked for partwork publishers Eaglemoss.
Ad blocker interference detected!
Wikia is a free-to-use site that makes money from advertising. We have a modified experience for viewers using ad blockers

Wikia is not accessible if you've made further modifications. Remove the custom ad blocker rule(s) and the page will load as expected.