Johnny Future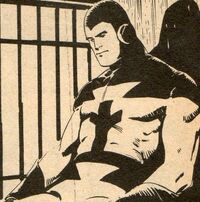 Current alias
Johnny Future
Characteristics
Status
Origin
History
The Missing Link was a wild man discovered, captured and brought to Brtain by explorer Bull Belson, who hoped to make a fortune by exhibiting him. The Neanderthal-like Link caused havoc for some weeks before wandering into a nuclear reactor (as you do) and emerging as the super-evolved, super-powered Johnny Future, who fought for justice seemingly because he had powers and nothing better to do!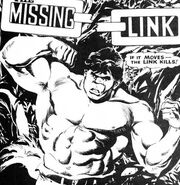 Powers and abilities
Powers
Flight; enhanced senses.
Abilities
Can separate his astral self from his body at will.
Strength level
Superhuman.
Weaknesses
When enraged, loses his strength and reverts to a primitive mental state.

Paraphernalia
Transportation
He can fly.

Notes
The Missing Link/Johnny Future appeared in Fantastic, one of the Odhams Power Comics line which was otherwise primarily dedicated to licensed Marvel Comics reprints.
Links
Discover and Discuss