Johnny Lawless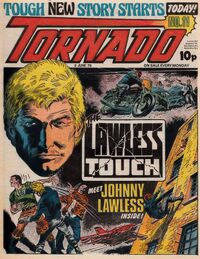 Characteristics
Status
Occupation
Secret agent; former thief
Origin
First appearance
Last appearance
History
Johnny Lawless was a professional thief blackmailed by a shadowy intelligence agency he referred to as the 'Eurofuzz' into acting as a secret agent. He undertook several missions for them, including one which brought him into conflict with the Volgans prior to their invasion of Britain. He reported to a beautiful but ruthless woman codenamed 'Mother'.

Notes
The Lawless Touch ran in Tornado #11-22 and in the 1981 edition of the Tornado Annual.

Trivia
'Mother' may have been inspired by the Mother to whom John Steed reported in The Avengers.
Links
Discover and Discuss
Ad blocker interference detected!
Wikia is a free-to-use site that makes money from advertising. We have a modified experience for viewers using ad blockers

Wikia is not accessible if you've made further modifications. Remove the custom ad blocker rule(s) and the page will load as expected.