Johnny Nemo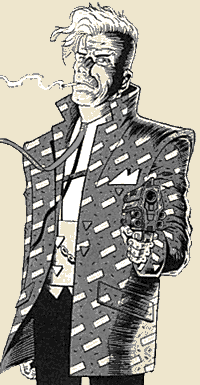 Characteristics
Origin
History
Johnny Nemo is a private detective operating in New London in the year 2921AD. Johnny, who has had a new liver and lungs transplanted rather than give up drinking and smoking, is a violent man in an unbelievably brutal and often insane world.

Paraphernalia
Weapons
A variety of lethal firearms.

Notes
Although created by two British comic creators, Johnny Nemo originally appeared in the American anthology Strange Days and his own short lived series, both published by Eclipse Comics, before featuring in Deadline. It was effectively a satire on traditional American hard boiled detective fiction.
Links
Discover and Discuss
Ad blocker interference detected!
Wikia is a free-to-use site that makes money from advertising. We have a modified experience for viewers using ad blockers

Wikia is not accessible if you've made further modifications. Remove the custom ad blocker rule(s) and the page will load as expected.