Joylove McShane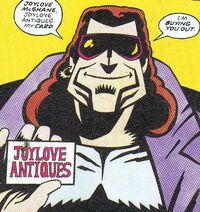 Real name
Joylove McShane
Characteristics
Unusual features
Closely resembles Ian McShane
Status
Origin
History
Joylove McShane claimed to be an antiques dealer who had decided to make a hostile takeover of the business of scrap dealers Flotsam and Jetsam, but in fact, he and his brutish assistant Stinker were gunrunners working for Eric Kleig of the Brotherhood of Logicians, who had employed them to acquire and reactivate a horde of inert Cybermen which Flots and Jets had discovered. His plans went awry thanks to the arrival of The Doctor, and Joylove ended up apparently falling victim to own of his own reactivated Cybermen as he tried to escape in his ship.

Powers and abilities
Abilities
Divvy.

Notes
Joylove McShane was introduced in the Doctor Who strip Junkyard Demon II, a sequel to the classic story Junkyard Demon from Doctor Who Magazine, which appeared in the 1996 Doctor Who Yearbook.

Trivia
It is just possible that Joylove McShane was ever so loosely based on... or perhaps just subconsciously inspired by... roguish TV antique dealer Lovejoy, played by the actor Ian McShane. Or maybe not. Y'know what? Forget I said anything. It was a silly idea. I feel daft even having mentioned it, now...
Links
Discover and Discuss
Ad blocker interference detected!
Wikia is a free-to-use site that makes money from advertising. We have a modified experience for viewers using ad blockers

Wikia is not accessible if you've made further modifications. Remove the custom ad blocker rule(s) and the page will load as expected.