The Judge Child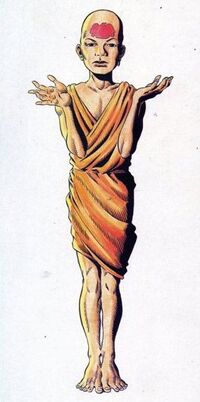 Current alias
The Judge Child
Characteristics
Unusual features
Aquiliform birthmark on forehead
Status
Origin
Origin
Genetically abnormal
History
Owen Krysler is a character from the 2000 AD strip Judge Dredd. He was a mutant born in Mega-City One, a very unusual child with a curious eagle-shaped birthmark on his forehead. His parents took him out of the city to the Cursed Earth, where he grew up, but his parents were murdered by slavers and Owen ended up in the hands of the Brotherhood of Trash, and later the Angel Gang.
Meanwhile, after warnings from the psychic Judge Feyy, Judge Dredd and a squad including Judge Hershey, Judge Lopez and Judge Larter were sent from Mega-City One to recover the 'Judge Child' (so called because of his eagle emblem) who Feyy had predicted would be vital to the future of the city. The Judge Child Quest ended on the planet Xanadu, where Dredd (having disposed of the Angel Gang) declared the Judge Child to be tainted by evil and left him in the hands of the robot called Grunwalder.
Months later, however, Krysler resurrected Mean Angel (using a 'regenerating elixir' given to him by Grunwalder) and freed his brother Fink from prison (by exerting his psychic powers over the prison staff). His plan was to send them against Dredd, Hershey and Larter for revenge. Defeating 'Destiny's Angels' (though not before Larter was killed), Dredd sent a missile strike to Xanadu to execute the Judge Child.

Powers and abilities
Powers
Uncatalogued but extensive mental powers including telepathy and telekinesis; these powers increased to the point where Krysler could make massive changes to the physical world.
Strength level
Skinny human male.
Weaknesses
He has no power over machines, which is why the missiles killed him.

Paraphernalia
Equipment
Incredibly expensive regenerating elixir (given to him by Grunwalder).
Weapons
His mind.

Notes
A warped clone of the Judge Child, known as The Mutant, later proved to be the true threat predicted by the late Judge Feyy.

Trivia
Mean Angel referred to the Judge Child as "baldy." Some people just have no respect for eldritch paranormal powers which bridge the vast abyss of interstellar space.
Links
Discover and Discuss
Ad blocker interference detected!
Wikia is a free-to-use site that makes money from advertising. We have a modified experience for viewers using ad blockers

Wikia is not accessible if you've made further modifications. Remove the custom ad blocker rule(s) and the page will load as expected.