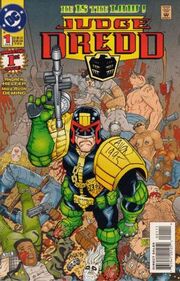 From August 1994 to January 1996, America's
DC Comics
(see
DC Comics (British Reprints)
) published a licensed
Judge Dredd
title based on the
2000AD
character, which lasted 18 issues. The stories, by
Andrew Helfer
and
Michael Avon Oeming
, bore scant resemblance to the original series however, much of the satirical humour of the British Dredd strips being lost and the character treated as more of a standard action hero than the borderline fascist beloved of his fans at home in the UK. DC also published a companion title,
Judge Dredd: Legends of the Law
, which debuted in December 1994 and ran for 14 issues (this title benefited from having scripts submitted by
John Wagner
and
Alan Grant
, though it still exists outside regular Dredd continuity), and a licensed adaptation of the
Judge Dredd Movie
in 1995, by Helfer and
Carlos Ezquerra
. In addition, DC published several crossover titles in partnership with 2000AD, including
Batman . Judge Dredd: Judgement on Gotham
,
Batman/Judge Dredd: Vendetta in Gotham, Batman/Judge Dredd: The Ultimate Riddle, Batman/Judge Dredd: Die Laughing Vol 1
#1-2 and
Judge Dredd/Lobo: Psycho Bikers vs the Mutants from Hell
, all of which were also published in the UK. The Judge Dredd licence in the USA was later picked up some years later by
IDW
comics, and still later by
Titan
.
Ad blocker interference detected!
Wikia is a free-to-use site that makes money from advertising. We have a modified experience for viewers using ad blockers

Wikia is not accessible if you've made further modifications. Remove the custom ad blocker rule(s) and the page will load as expected.