Judge MacBrayne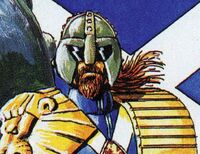 Current alias
Judge MacBrayne
Base of operations
Calhab
Characteristics
Status
Origin
History
Ed MacBrayne is the central character in the Judge Dredd Megazine series Calhab Justice. He is a Judge in CalHab (22nd century Scotland), the world's largest nuclear dumping ground, where a man is known by the size of his weapon. An old-fashioned copper, MacBrayne is proficient with a gun, but prefers to settle his arguments with his impressively large claymore. His close colleagues, such as Judge Buchan, think he's a bit of a headcase, but nobody's perfect, ye ken?

Powers and abilities
Abilities
Like all Calhab Judges, who are a mutant strain, MacBrayne has a phenomenally high tolerance for radiation, and can survive even limited exposure to the core of a nuclear reactor.
Strength level
Peak human male.

Paraphernalia
Weapons
Claymore; skean-dhu blaster.

Trivia
MacBrayne calls his claymore 'Betsy'.
Links
Discover and Discuss
Ad blocker interference detected!
Wikia is a free-to-use site that makes money from advertising. We have a modified experience for viewers using ad blockers

Wikia is not accessible if you've made further modifications. Remove the custom ad blocker rule(s) and the page will load as expected.