Judge Fernandez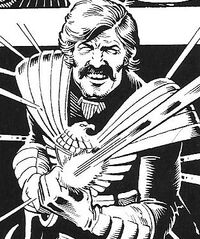 Real name
Julio Fernandez
Current alias
Judge Fernandez
Characteristics
Unusual features
Big moustache
Status
Origin
History
Judge Julio Fernandez is a character from the 2000 AD strip Judge Dredd. He was one of the Judge-Tutors from the Academy of Law who remained loyal to Judge Joseph Dredd during the war with the insane Chief Judge Cal (because Judge-Tutors didn't have to listen to the daily crime briefings, which Cal had used to brainwash the rest of the Judges). Fernandez was mortally wounded in a shootout with Cal's alien mercenaries, the Kleggs, and voluntarily laid down his life by charging at the enemy in order to give Dredd and the other resistance members a chance to escape.

Powers and abilities
Strength level
He ees a strong man weeth a strong accent.
Weaknesses
No' reely ver' good weeth the English.

Paraphernalia
Weapons
Lawgeever handgon.
Links
Discover and Discuss
Ad blocker interference detected!
Wikia is a free-to-use site that makes money from advertising. We have a modified experience for viewers using ad blockers

Wikia is not accessible if you've made further modifications. Remove the custom ad blocker rule(s) and the page will load as expected.