Judge Karyn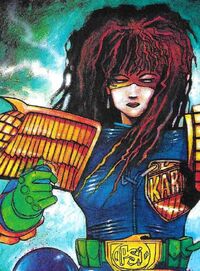 Current alias
Judge Karyn
Characteristics
Unusual features
Blank eyes
Status
Origin
History
Judge Karyn is a character from the Judge Dredd Megazine strip Judge Dredd, who has also appeared in her own strip. She was a Judge in Justice Department's Psi-Division who collaborated with Dredd on several occasions. They seemed to have a good working relationship.
Karyn's first recorded case involved the location and capture of a Raptaur, a malevolent alien silica-based life-form which was lurking in the Mega-City's shadows and eating random citizens. Unfortunately, the Raptaur was producing a "psi-fug" which meant that Karyn was unable to use her psi-talents to track it. This isn't the best way to introduce a new character.
It emerged that Psi-Judge Karyn's ultimate ambition was to replace Psi-Judge Anderson as the city's top psychic talent. However, she had a tendency to screw things up which culminated in her being possessed by a malevolent psychic entity while trying to imprison it within her own mind, copying an achievement of Anderson's years earlier. She was last seen locked up in a cell in Psi-Division, her mind apparently irretrievably lost.

Powers and abilities
Powers
She's psychic, for all the good it's done her.
Abilities
Arresting perps; having psi-flashes; mind control; travelling on the astral plane.
Weaknesses
Not as good as she thinks she is.

Paraphernalia
Equipment
Accessory pouch containing three heatseeker shells; helmet containing internal visor display (including infra-red) and respirator; uniform made from plasti-steel reinforced material.
Transportation
Lawmaster bike.
Weapons
Lawgiver handgun which can fire six types of shell: heatseeker, rubber ricochet, incendiary, armour-piercing, high explosive and standard execution. Also daystick and bootknife.

Notes
Karyn has had her own series in the Judge Dredd Megazine, as well as appearing in the main Judge Dredd strip. She was not particularly successful in either.

Trivia
Karyn is sometimes drawn with blue eyes. It is possible that her eyes are only white when she is using a particular psi-power.
Links
Discover and Discuss