Judge Kramer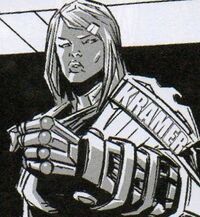 Current alias
Judge Kramer
Characteristics
Unusual features
Bionic left hand
Status
Origin
History
Mona was the lover of undercover Judge Lenny Zero. When mob boss Little Caesar Piccante threatened her life, Zero betrayed the Justice Department in order to save her, subsequently stealing Caesar's fortune which he planned to use to build them a new life.
Unfortunately, 'Mona' revealed herself to be, in reality, Judge Kramer, an undercover operative of the Special Judicial Squad who had been acting as a honey trap to nail Zero. Lenny was forced to blow her left hand off with a booby-trapped handgun in order to escape her, leaving Kramer with a deep and abiding hatred of Zero. She later believed that he had been killed when the spaceship he was escaping the planet in was vaporised by an orbital weapons platform. However, Zero had in fact left the ship and slipped past the Judges' blockade moments before it took off.
Kramer's formerly spotless service record was blemished when Zero stole a cash shipment she was supposed to be guarding by flooding the surrounding area with an aphrodisiac gas. This caused the Judges accompanying the shipment to get off their bikes and start having sex with each other. Kramer, who is not a very nice person, ordered the armoured vault she was in to drive over them. Then the aphrodisiac gas penetrated the vault's cab. Kramer and her male colleagues stripped off all their clothes and engaged in an orgy, leaving her totally humiliated. It's probably just as well that Kramer doesn't know that Zero is alive and has a recording of said orgy, and that he infiltrated Justice Department specifically in order to ensure that she would be one of the Judges guarding the shipment in the first place by giving her superior Judge Buell subliminal instructions while he was asleep.

Powers and abilities
Abilities
She's a very good actor.
Strength level
Peak human female.

Paraphernalia
Equipment
Bionic left hand which she considers to be "better than the original"; accessory pouch containing three heatseeker shells; helmet containing internal visor display (including infra-red) and respirator; uniform made from plasti-steel reinforced material.
Transportation
Lawmaster bike.
Weapons
Lawgiver handgun which can fire six types of shell: heatseeker, rubber ricochet, incendiary, armour-piercing, high explosive and standard execution. Also daystick and bootknife.

Notes
According to her boss, Judge Buell, Kramer has "been pivotal in the assessment of two dozen unfit Judges" (2000 AD prog 1794).
Links
Discover and Discuss