Judge Lackey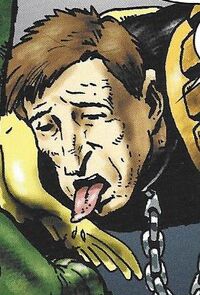 Characteristics
Status
Origin
History
Judge Lackey (which may or may not have been his real name) is a character from the 2000 AD strip Judge Dredd. He was the boot-licking toady of an extra-dimensional version of the insane Judge Caligula, and assisted him in his attempted invasion of Mega-City One. Lackey's main function seemed to be to keep Cal informed as to the latest developments, but he did eventually get to see some action, when Cal ordered him to get between himself and Judge Dredd's gun. Lackey took a bullet meant for Cal, and died, though it is a lasting testament to his ineffectuality that the bullet went straight through his head and hit Cal in the shoulder anyway.

Powers and abilities
Weaknesses
Lackey was pretty much the living definition of weakness.

Paraphernalia
Transportation
Dimension jump technology.
Links
Discover and Discuss
Ad blocker interference detected!
Wikia is a free-to-use site that makes money from advertising. We have a modified experience for viewers using ad blockers

Wikia is not accessible if you've made further modifications. Remove the custom ad blocker rule(s) and the page will load as expected.