Judge Mortis
Comments

0
1,393pages on
this wiki
Judge Mortis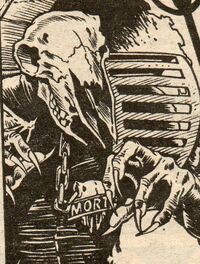 Current Alias
Judge Mortis
Base Of Operations
Mega City One
Characteristics
Unusual Features
His face resembles a sheep's skull. His body appears to be in a constant state of gradual disintegration.
Origin
Mortis was once human, a Judge on the pparallel world known as "Deadworld", but had himself transformed by black magic into the undead Judge Mortis in order to become one of Judge Death's Dark Judges. He has clashed repeatedly with both Judge Dredd and Judge Anderson in that capacity.

Powers and Abilities
Edit
Powers
Judge Mortis is a disembodied spirit who gains corporeal form by possessing the bodies of others using chemicals called "Dead Fluids", a process which kills the host body.
Abilities
Judge Mortis's touch causes rapid decay, his victims literally disintegrating almost instantly.
Discover and Discuss
Edit