Judge Winslow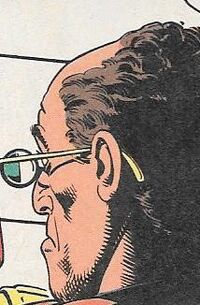 Current alias
Judge Winslow
Characteristics
Status
Origin
First appearance
Last appearance
Unknown
History
Judge Winslow is a character from the 2000 AD strip Judge Dredd. He was a member of Justice Department's Accounts Division, and was chosen to serve as a member of Judge Joseph Dredd's five-person squad, tasked with travelling into space and locating the Judge Child. As Winslow himself explained, "We have all known alien currencies aboard, as well as the usual precious metals. I'm here to make sure this mission doesn't get too expensive!"
Unfortunately, Dredd decided that on a high-risk mission where the fate of the city was at stake, an accountant was surplus to requirements, so the five-man crew became a four-man crew and Winslow was last seen exiting Justice One's hangar with his suitcases.
Years later, Winslow made the mistake of irritating Dredd again when he questioned a 130,000 credit claim for medical expenses which Dredd had authorised for treating a little girl injured in an accident. He received a punch in the mouth for his trouble.

Powers and abilities
Abilities
Accountancy.
Strength level
Average strength of an accountant of his age and build who takes as little exercise as humanly possible without breaching Justice Department regulations.

Paraphernalia
Equipment
Glasses.
Weapons
The pen is mightier than the sword.
Links
Discover and Discuss
Ad blocker interference detected!
Wikia is a free-to-use site that makes money from advertising. We have a modified experience for viewers using ad blockers

Wikia is not accessible if you've made further modifications. Remove the custom ad blocker rule(s) and the page will load as expected.