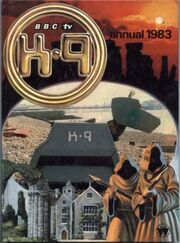 The K9 Annual was published by
World Distributors
in late 1982 and dated 1983, though it was effectively a tie-in to the 'K9 & Company' TV pilot originally broadcast a year earlier on December 28th 1981 (K9 & Company was the first televised
Doctor Who
spin-off show, though it was never picked up for a full series). Like the TV pilot, the annual starred robot dog
K9
and his mistress, former Doctor Who companion
Sarah Jane Smith
, though the limited reference material available meant that a disproportionate number of stories appeared to focus on K9 fighting robed cultists as he had in the TV pilot! The stories in the annual are uncredited, as World Distributors annuals invariably were.
Ad blocker interference detected!
Wikia is a free-to-use site that makes money from advertising. We have a modified experience for viewers using ad blockers

Wikia is not accessible if you've made further modifications. Remove the custom ad blocker rule(s) and the page will load as expected.