Ka-Magnon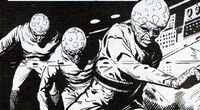 Characteristics
History
The Ka-Magnon, inhabitants of the planet Ka-Magnon, attempted to invade Earth with a gigantic robotic spider with a single huge eye, the 'Eye of Ka', which they brought down in the Orkneys. The Steel Claw infiltrated the machine and discovered that it was actually a spacecraft piloted by six of the aliens. He destroyed the ship and its crew, and the aliens' orbiting mothership fled back to Ka-Magnon, having decided that Earth was not suitable for conquest. Hurrah for the Steel Claw!

Powers and abilities
Abilities
Immune to nerve gas.
Weaknesses
Give up too easily.

Paraphernalia
Equipment
Aforementioned arachnid robot.
Transportation
Mothership.

Notes
This story was reprinted in the 1980 2000 AD Sci-Fi Special.
Links
Discover and Discuss
Ad blocker interference detected!
Wikia is a free-to-use site that makes money from advertising. We have a modified experience for viewers using ad blockers

Wikia is not accessible if you've made further modifications. Remove the custom ad blocker rule(s) and the page will load as expected.