Karl the Viking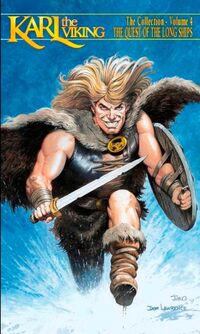 Real name
Karl the Viking
Aliases
Erik the Viking; Rolf the Viking
Characteristics
Status
Origin
Origin
Adopted by a Viking
History
Karl was born a Saxon, but after his father died in battle with Viking raiders their leader adopted the infant Karl and raised him as his own son in tribute to the bravery of a fallen foe. Karl eventually succeeded his father as leader of the band and proved to be an honourable and brave warrior, leading his men on various adventures throughout the world to countries including Egypt, what would one day become America, and even Atlantis.

Notes
Karl debuted in the strip Sword of Eingar, which was renamed after that initial storyline (which involved Karl questing to recover the fabled sword before his rival, Skurl). The strip ran for four years in Lion until 29th September 1964, a total of thirteen adventures spread over 205 issues, plus four in various editions of Lion annual (one of which was written by Michael Moorcock).
On 1st October 1966 Lion began to reprint Karl's early strips as Swords of the Sea Wolves, with Karl renamed Rolf; this was done because publishers IPC believed comics had roughly a four year turnaround of readers. Rolf last appeared on 7th October 1967, though he did star in one brand new adventure in the 1968 Lion annual.
Between 3rd May 1969 and 3rd April 1971 Karl/Rolf returned for yet another series of reprints in the pages of Smash!, this time renamed Erik the Viking. Under this name, he also resurfaced for one more brand new adventure in the Valiant summer special 1971.
The series was extensively reprinted (under all three names) in Europe in various periodicals and albums.
Links
Discover and Discuss
Ad blocker interference detected!
Wikia is a free-to-use site that makes money from advertising. We have a modified experience for viewers using ad blockers

Wikia is not accessible if you've made further modifications. Remove the custom ad blocker rule(s) and the page will load as expected.