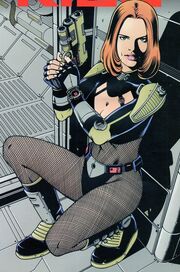 Kek-W is the real name of a comics writer who sometimes uses the pseudonym 'Nigel Long'. He is apparently "a mysterious droid who haunts the ducts between sub-levels 42b and 17h, deep beneath the Nerve Centre."
1
Kek-W created the following
2000 AD
strips:
He also worked on strips including Canon Fodder, The Grudge-Father and Tharg's 3rillers in 2000 AD and the Judge Dredd Megazine.

1Source: 2000 AD on Facebook.
Ad blocker interference detected!
Wikia is a free-to-use site that makes money from advertising. We have a modified experience for viewers using ad blockers

Wikia is not accessible if you've made further modifications. Remove the custom ad blocker rule(s) and the page will load as expected.