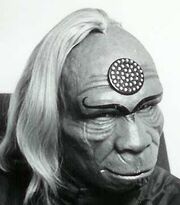 Kelvin Gosnell is a comics writer and editor who is best known for his work at
IPC
in the 1970s when, while writing stories such as
Dredger
for
Action
, he originated the idea of a weekly science fiction title, which eventually became
2000 AD
. When IPC approved the idea and gave it to
Pat Mills
to develop, he brought Gosnell on staff since the title had been his idea initially. Gosnell effectively invented
2000 AD'
s alien editor,
Tharg
, and dressed up as him for some early photos and photo-strips using a modified Neanderthal mask bought from a joke shop. He also co-wrote
Dan Dare
,
Project Overkill
and
Judge Dredd,
and wrote episodes of
Flesh
,
Joe Black
and
Tharg's Future Shocks
. 
Gosnell succeeded Mills as editor after 2000 AD's 16th issue, and also oversaw the launch of companion title Star-Lord, as well as Star-Lord's eventual merge with 2000 AD. He resigned as an editor in early 1979 during the launch of Tornado because of issues between himself and managing editor Bob Bartholomew, being replaced by sub-editor Steve MacManus. Gosnell continued to write on a freelance basis for 2000 AD, however, serialising three of Harry Harrison's Stainless Steel Rat books in 1979, 1980 and 1984 and co-writing an installment of Black-Hawk with Alan Grant and a Ro-Jaws Robo-Tale. He later went on to write Storm for the Dutch publication Eppo, and, among other things, a two-page Wonder Woman text story for the 1983 edition of London Editions Magazines' The Super Heroes Annual.
Pat Mills has written a blog post about some of 2000 AD's unsung heroes which mentions Kelvin Gosnell and can be found here.
Ad blocker interference detected!
Wikia is a free-to-use site that makes money from advertising. We have a modified experience for viewers using ad blockers

Wikia is not accessible if you've made further modifications. Remove the custom ad blocker rule(s) and the page will load as expected.