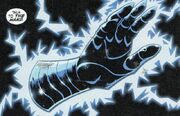 Kenneth 'Ken' Bulmer (14th January 1921 to 16th December 2005) was a prolific science fiction author who wrote over 160 novels and numerous short stories both under his own name and several pseudonyms. He also worked in comics, writing
Jet-Ace Logan
for
Tiger
and various scripts for
Lion
,
Valiant
and
War Picture Library
. He is the co-creator of the classic British comics character
The Steel Claw
. In tribute to him,
Paul Grist
's
Steel Claw
inspired character, 'The Claw' (from his
Jack Staff
series) has the real name 'Ben Kulmer'.
Ad blocker interference detected!
Wikia is a free-to-use site that makes money from advertising. We have a modified experience for viewers using ad blockers

Wikia is not accessible if you've made further modifications. Remove the custom ad blocker rule(s) and the page will load as expected.