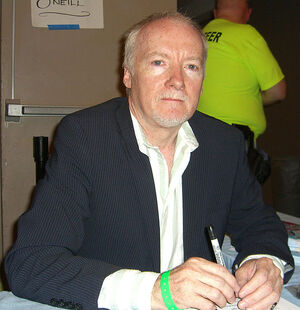 Kevin O'Neill was born in 1953, and began working for
IPC
as an office boy on
Buster
 at the age of 16. By the mid 1970s he had moved up to working as a colourist on Disney reprints and children's humour titles such as
Whizzer and Chips
and
Monster Fun
. He then applied to editor
Pat Mills
to work on a new science fiction title,
2000 AD
. Beginning with covers and pin-ups, O'Neill soon moved on to drawing short stories for
2000 AD
before getting his first major continuing story with
Ro-Busters
.
From there, he went on to draw numerous strips including ABC Warriors, Bonjo from Beyond the Stars, Tharg's Terror Tales and Nemesis the Warlock (which he co-created, with Mills) as well as Judge Dredd. His short story 'Shok!' from the 1981 Judge Dredd Annual (see below) was the basis of a court case when it was found to be the basis for Richard Stanley's 1990 film Hardware. Stanley lost the case, O'Neill and co-writer Steve MacManus were given writing credits on the film, and it is now regarded as the first 2000 AD story to be adapted into a movie.
In the early 1980s O'Neill worked for a time for American publishers DC on titles such as Green Lantern but his art style caused controversy as the Comics Code Authority considered it 'objectionable'. His association with the company was short, though he and Pat Mills did create Metalzoic, one of the first creator-owned graphic novels, at DC (it was later reprinted in 2000 AD). They also created Marshal Law, initially for Epic Comics, though it later went to several different publishers. O'Neill was also one of the creators responsible for the short lived title Toxic! Since 1999, he has been collaborating with Alan Moore on the hugely successful League of Extraordinary Gentlemen series.
In a 2000 AD story featuring Tharg the Mighty, two aliens were shown reading an episode of Nemesis the Warlock. One said to the other, "Wot's an O'Neill?" Their companion replied, "Donno. But I don't think I'd let my daughter marry one!"
Ad blocker interference detected!
Wikia is a free-to-use site that makes money from advertising. We have a modified experience for viewers using ad blockers

Wikia is not accessible if you've made further modifications. Remove the custom ad blocker rule(s) and the page will load as expected.