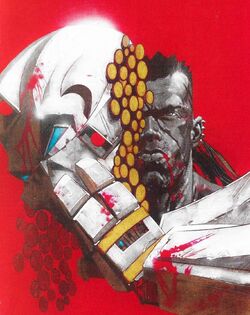 "3249 AD, and humanity is a third-class minority in a vast alien empire. In the Great Arena of Gore, convicted criminals are made to fight gladiatorial combat before a viewing audience — and none is more dangerous than legendary warrior 'Mad Dog' Madoc Blade!"
Killer was a strip by Steve Moore, Staz Johnson and David Roach which was published in 2000 AD progs 1264 to 1272. Pictured is cover art by Jock featuring the main character.
Thrill-Power Overload by David Bishop notes that Killer "evoked memories of early 2000 AD serials like Mean Arena," a story about the players of a deadly variant of football published twenty years previously.
The story was reprinted in Killer Vol 1 1, given away free with Judge Dredd Megazine #373 in June 2016.
Ad blocker interference detected!
Wikia is a free-to-use site that makes money from advertising. We have a modified experience for viewers using ad blockers

Wikia is not accessible if you've made further modifications. Remove the custom ad blocker rule(s) and the page will load as expected.