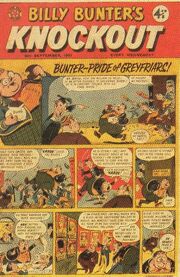 Knockout
was published by
Amalgamated Press
from 4th March 1939 and lasted 1251 issues until 16th February 1963. It incorporated the
Magnet
on 25th May 1940 (becoming
Knockout Comic & Magnet), 
incorporated
Comic Cuts
with issue 760 and was later renamed
Billy Bunter's Knockout
(10th June 1961).
Billy Bunter
was the lead feature for much of the title's run, with other features including
Sexton Blake
,
Our Ernie
,
Deed-a-Day Danny
,
The Phantom Sheriff
,
Tough Tod and Happy Annie
,
Kit Carson
,
Johnny Winco
,
Thunderbolt Jaxon
,
Battler Britton
and a variety of classic book adaptations including
Gulliver's Travels
and
Westward Ho!
. Artists who have worked for the title include
Ian Kennedy
.
Knockout was latterly published by Fleetway and was merged with Valiant in February 1963. It has no connection with the later Knockout published by IPC from 12th June 1971 to 23rd June 1973.
The Knockout Fun Book/Annual was published from 1941 to 1962.
Ad blocker interference detected!
Wikia is a free-to-use site that makes money from advertising. We have a modified experience for viewers using ad blockers

Wikia is not accessible if you've made further modifications. Remove the custom ad blocker rule(s) and the page will load as expected.