Koko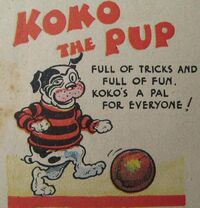 Characteristics
Origin
History
Koko the Pup was a puppy, unsurprisingly. He was a contemporary of Big Eggo, who he knocked around with in the pages of the Magic-Beano Book. He ended up riding Eggo at one point.

Powers and abilities
Abilities
He was Full of Tricks and Full of Fun. Apparently.

Notes
Koko the Pup was originally the cover star of The Magic Comic until its cancellation in 1941 due to paper rationing.
Links
Discover and Discuss
Ad blocker interference detected!
Wikia is a free-to-use site that makes money from advertising. We have a modified experience for viewers using ad blockers

Wikia is not accessible if you've made further modifications. Remove the custom ad blocker rule(s) and the page will load as expected.