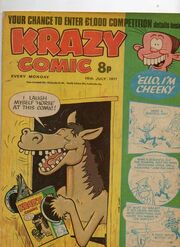 Krazy Comic was published by
IPC
from 16th October 1976-15th April 1978, running for 79 issues in total before merging with
Whizzer and Chips
(there were also Krazy Holiday Specials published from 1977-1983). A somewhat anarchic title by IPC standards, it featured a riotous mix of characters including the
Krazy Gang
,
Cheeky
(who also featured in the Krazy Gang strip), the
Buytonic Boy
(based loosely on TV's Six Million Dollar Man),
Hit Kid
,
Pongo
,
Micky Mimic
, spoof superheroes
Birdman and Chicken
,
Scaredy Cat
and
Handy Andy
. Cheeky later graduated to his own comic,
Cheeky Weekly
.
Ad blocker interference detected!
Wikia is a free-to-use site that makes money from advertising. We have a modified experience for viewers using ad blockers

Wikia is not accessible if you've made further modifications. Remove the custom ad blocker rule(s) and the page will load as expected.