Krong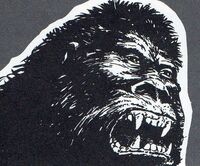 Affiliation
Controlled by Kevin O'Neill
Base of operations
Mega-City One
Characteristics
Status
Occupation
Gigantic robot gorilla
Origin
Origin
Created for film set
History
Krong is a supporting character from the 2000 AD strip Judge Dredd. He was a gigantic robot gorilla used by crazed murderer Kevin O'Neill in order to attempt to evade justice in Mega-City One. O'Neill (the curator of the Movie Special Effects Museum) was a fan of monster movies who was angry that the giant robot monsters used in them were being left to rust, as people preferred the "dream worlds" brought into their apartments by the company Sensor-Round. He therefore used the giant robot monsters to kill Sensor-Round's top executives. Krong started climbing to the top of Sensor-Round's building but was decapitated en route, falling off and landing on his demented controller.
Krong's remains were destroyed by Judge Dredd, which was actually rather a shame as you can never have too many gigantic robot gorillas.

Powers and abilities
Powers
Bullets just bounce off him.
Abilities
Ripping up roadways.
Strength level
Krong possessed the normal strength of a giant robot gorilla of his size and weight who engaged in moderate regular exercise.
Weaknesses
Vulnerable to exploding Lawmaster bikes.

Paraphernalia
Transportation
Climbs.
Weapons
Gargantuan fists and huge fangs.
Links
Discover and Discuss
Ad blocker interference detected!
Wikia is a free-to-use site that makes money from advertising. We have a modified experience for viewers using ad blockers

Wikia is not accessible if you've made further modifications. Remove the custom ad blocker rule(s) and the page will load as expected.