Loz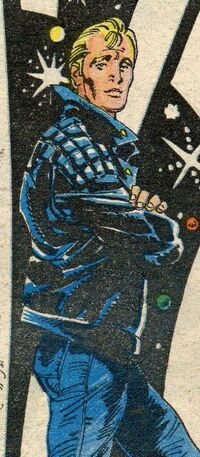 Real name
Lawrence Taylor
Affiliation
Ally of Skizz.
Base of operations
Birmingham
Characteristics
Status
Origin
Origin
Normal human birth
History
Loz, for all his (not unsuccessful) attempts to appear cool, was basically just another unemployment statistic in eighties Britain. Then Roxanne O'Rourke, daughter of a former workmate, asked him and his alarming associate Cornelius Cardew for their help in hiding and protecting the stranded alien Skizz.
Loz found himself fighting to save Skizz from a sinister government agency led by a bigot called Mr Van Owen. He and Cornelius rescued Skizz from an RAF base by masquerading as laundrymen and doctors, with the help of some rats, a protest organised by Loz's mates, a motorbike and two giant toy wallabies (both called 'Mister Springee'). Loz was present when Skizz's own people finally came to rescue him from the primitive planet Earth.
Years later, Skizz returned to Earth. Loz was recruited to aid him again, despite having ended up in prison and being in the middle of a solitary rooftop protest at the time.

Powers and abilities
Strength level
Pretty fit human male.
Weaknesses
Vanity.

Paraphernalia
Equipment
Two giant toy wallabies.
Transportation
Cornelius's van.
Weapons
None.
Links
Discover and Discuss
Ad blocker interference detected!
Wikia is a free-to-use site that makes money from advertising. We have a modified experience for viewers using ad blockers

Wikia is not accessible if you've made further modifications. Remove the custom ad blocker rule(s) and the page will load as expected.