Leo Baxendale was born in Lancashire on 27th October 1930, and began drawing for publisher D.C. Thomson's long-running title the Beano on a freelance basis in 1952. He went on to create Little Plum, Minnie the Minx, The Three Bears and The Bash Street Kids for the comic, and also helped launch the Beezer in 1956 before parting company with the Beano and its stablemates in 1962 and going on to work for Odhams (where he helped launch Wham!, and a stable of characters that included Grimly Feendish) and later IPC, for whom he created Sweeny Toddler and Clever Dick, amongst others. He also created Willy the Kid, which was published in book form by Duckworth's from 1976-1978. In 1987, he founded the publishing house Reaper Books. He died on 27th October 2017.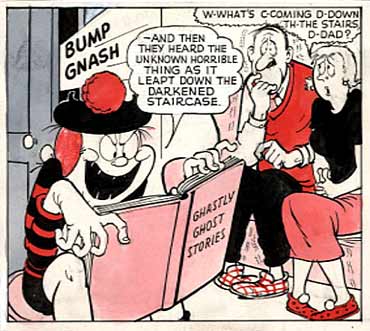 Ad blocker interference detected!
Wikia is a free-to-use site that makes money from advertising. We have a modified experience for viewers using ad blockers

Wikia is not accessible if you've made further modifications. Remove the custom ad blocker rule(s) and the page will load as expected.