Liana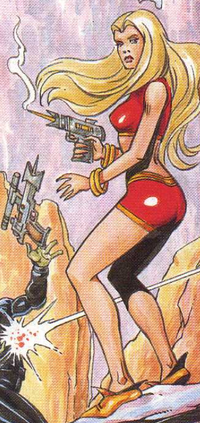 Affiliation
Ally of Nick Stone
Base of operations
Future Earth
Characteristics
Unusual features
She's a humanoid feline
Status
Occupation
Freedom fighter; former slave
Origin
Origin
Genetically engineered
Place of birth
Future Earth
First appearance
Last appearance
History
Liana is is a character from the 2000 AD strip Meltdown Man. She was a genetically engineered 'Yujee', a cat given humanoid form, created as a slave in the dystopian future world discovered by Nick Stone. Liana was rescued from slavery by Stone and assisted him in bringing about the revolution which freed the Yujees from their cruel human master, Leeshar.
Along the way, she overcame numerous dangerous situations, including exposure to the 'Meta Plague'. This temporarily vastly accelerated her and Stone's metabolisms, causing her hair to grow to a tremendous length instantaneously.
When Nick Stone was returned to his own time, he realised that this might mean that Liana would never be born in the future: "The Earth was struck by an asteroid which changed the future, but what if the asteroid was deflected? What if my story is believed and humanity is prepared for its coming? Then the future would change, and Leeshar would never have existed. Nor would Gruff, Liana, or T-Bone. You'll never know for sure, Stone... except that they'll always live on in your memory!"

Powers and abilities
Abilities
Various feline characteristics, including claws on her fingertips, natural agility greater than that of a human and extremely good eyesight.
Strength level
Humanoid cat who gets regular exercise.
Weaknesses
Existential uncertainty.

Paraphernalia
Transportation
Slave ship.
Weapons
Gun.
Links
Discover and Discuss
Ad blocker interference detected!
Wikia is a free-to-use site that makes money from advertising. We have a modified experience for viewers using ad blockers

Wikia is not accessible if you've made further modifications. Remove the custom ad blocker rule(s) and the page will load as expected.