Lin-Fu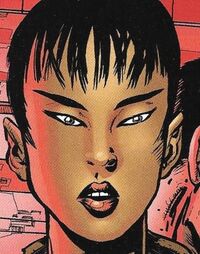 Characteristics
Status
Education
Camp McGarry combat school
Origin
Origin
Normal human birth
Place of birth
Mars, 2559 AD
Place of death
Charon, 2581 AD
History
Born on the Chinese colony on Mars, Lin-Fu joined the reformed V.C.s, commanded by Major Smith, in 2581 AD when the war with the Geeks reignited. Her comrades were Kali, Ryx, Ronsalle, Diderot (who replaced Ronsalle when he died) and Keege. In her first training session with them she proved to be impetuous but brave, rushing into combat without confirmed back-up.
Lin-Fu was a courageous and reliable V.C. who fended off Ryx's low-level sexual harassment by pointing a gun at him. Then she decided to sleep with him when they were marooned on Charon, because the moon was swarming with Geeks and they could die at any moment. The morning after, she informed Ryx that she owed him nothing. Lin-Fu was fatally shot by Geeks seconds after (a) Ryx declared that he loved her and (b) she had saved the Earth by using her technical skills to send them the data of a planet-killing Geek weapon.

Powers and abilities
Abilities
Shooting stuff; unarmed combat; using communications technology.
Strength level
Peak human female.
Weaknesses
Ryx.

Paraphernalia
Equipment
A spacesuit with her name on it.
Transportation
Spaceship.
Weapons
The ship's guns; handgun.
Links
Discover and Discuss
Ad blocker interference detected!
Wikia is a free-to-use site that makes money from advertising. We have a modified experience for viewers using ad blockers

Wikia is not accessible if you've made further modifications. Remove the custom ad blocker rule(s) and the page will load as expected.