Link Angel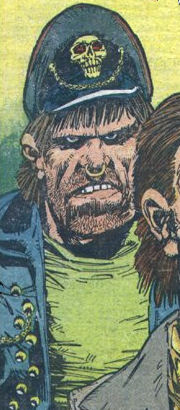 Characteristics
Status
Origin
Origin
Normal human birth
Place of birth
Texas City
History
Link was the eldest of the sons of Pa Angel, leader of the Angel Gang, the most vicious gang of criminals ever to come out of Texas City. According to the Judge Dredd Megazine story Angelic, he was adopted as a child by Pa, who met him at a Cursed Earth charitable trust way station. The boy was being cared for there after he was discovered alive with the remains of a slaughtered party of Helltrekkers. He was given the name Lincoln because the Helltrekkers' licence plates were registered in Lincoln, Nebraska.
Years later, the Angel Gang (minus brother Fink Angel, who had left them some years earlier) were on the run from the law and kidnapped the mutant boy known as the Judge Child, fleeing with him to the planet Xanadu. They were pursued by Judge Dredd, whom Link and his brother Mean attempted to stop before he reached Pa, Junior and their captive. Mean had a dial in his head which controlled his aggression, going from 1 (surly) to 4 (brutal). When it got stuck on 4½ he went into an uncontrollable headbutting frenzy, headbutting first his brother Link and then a petrol pump, which exploded.
So perished Link, through accidental fratricide. He killed Mean's pet rabbit when the brothers were both children, so one could argue that he had it coming.

Powers and abilities
Abilities
Being a lousy no-good varmint.
Strength level
Adult human male who gets regular exercise (huntin', shootin', stealin', etc).

Paraphernalia
Weapons
Yes.

Notes
Link first appeared in the classic Judge Dredd story The Judge Child Quest.
Link is the only member of the original Angel Gang never to have been resurrected, though he has appeared in numerous flashback stories.
Link's trademark is his biker gear, and he also has a ring through his nose.

Trivia
In the end credits to the 1995 Judge Dredd movie, Link is misidentified as Fink, though he is clearly named as Link in the dialogue. Link is played in the movie by Phil Smeeton.
Links
Discover and Discuss
Ad blocker interference detected!
Wikia is a free-to-use site that makes money from advertising. We have a modified experience for viewers using ad blockers

Wikia is not accessible if you've made further modifications. Remove the custom ad blocker rule(s) and the page will load as expected.