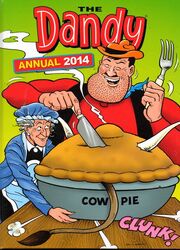 Every week since the October 2010 revamp, except for 11/12/2010, the
Dandy
ran a strip drawn by
Nigel Parkinson
about a child version of a celebrity. These took a well-known trait from that celebrity, and parody and make fun of it.
Celebrities featured
30/10/2010: Little Simon (Cowell) 

—

 depicted as always being nice, even though he tries not to be
6/11/2010: Little Lord Sugar (Alan Sugar) 

—

 says "You're fired!" to everyone
13/11/2010: Little Gordon (Ramsey) 

—

 gets angry (they couldn't use his usual foul language obviously, so they had him turn into the Incredible Hulk instead)
20/11/2010: Little Stephen Fry 

—

 "Quite interesting"
27/11/2010: Little Clarkson (Jeremy Clarkson and Richard Hammond) 

—

 joyriding a car, with Hamster as a passenger ("Little James May" gets mentioned but isn't seen)
4/12/2010: Little Bruce Forsyth
December 2010: Little Lady Gaga - (revealed on Facebook)
Ad blocker interference detected!
Wikia is a free-to-use site that makes money from advertising. We have a modified experience for viewers using ad blockers

Wikia is not accessible if you've made further modifications. Remove the custom ad blocker rule(s) and the page will load as expected.