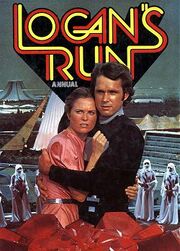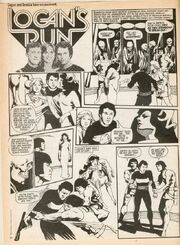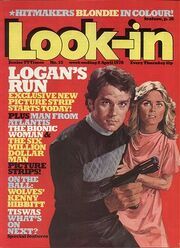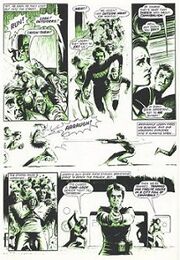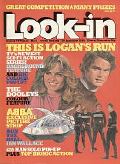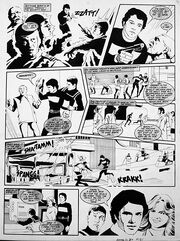 Background
Originally a novel by American writer William F. Nolan, Logan's Run, a sci-fi classic about a couple fleeing from a computer-controlled society where people were condemned to death while still young in order to keep the population stable, was first made into a big budget movie starring Michael York and Jenny Agutter as Logan 5 and Jessica 6 in 1976 (which was adapted into comics form by Marvel Comics in America) and then adapted into a TV series the following year (which followed its own continuity, largely separate from the movie). There has also been a comics adaptation based on the original books, from American publisher Malibu Comics.
British comics versions
The 1977 TV series version of Logan's Run, starring Gregory Harrison as Logan and Heather Menzies as Jessica (with Donald Moffat as a new character, the android Rem) spawned a 1978 Logan's Run Annual published by Brown Watson. It featured a mix of features on the TV series, text stories, puzzles, and three complete comic strip stories with art by David Lloyd; 'Sunrise....Moonset' (in which Logan, Jessica and Rem encounter Samurai swordsmen), 'City of the Nighthawks' (in which the trio are trapped in a city of cannibals) and an opening three pager called 'Logan's Run/Logan's World' which basically provides a quick recap of Logan's background.
From April to September 1978, the television focused comic Look-In also published a weekly strip based on the series drawn by Arthur Ranson and written by Angus Allan, which lasted for a total of 26 two-page episodes. The Logan's Run comic strips from Look-In can be viewed here.