Loner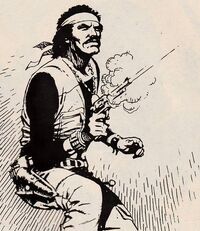 Characteristics
Origin
History
Loner was a former galactic mercenary who, having won the lottery, unexpectedly donated $20, 000, 000 to help finance the creation of the spaceship Wildcat and became one of the mission leaders, searching for a new homeworld for humanity.

Paraphernalia
Weapons
Antique six shooter customised to shoot different types of ammunition.

Notes
Following the cancellation of the Wildcat title, Loner's adventures continued to appear intermittently in Eagle until issue #422. His strip lasted longer than those of his three cohorts, Turbo Jones, Kitten Magee and Joe Alien. Loner's entire series was later reprinted by Fleetway/Quality in a seven issue limited series also titled Loner (See Gallery). The first two issues reprinted his stories from Wildcat #1-12, the remaining five parts reprint his stories from Eagle #371-374, #380, #384 (issue #3), #387, #393, #395-400 (#4), #401-410 (#5), #411-419 (#6) and #420-422 plus short story Don't Take the Tablets (from Wildcat) and two short stories from 2000AD (in #7).
Links
Discover and Discuss
Ad blocker interference detected!
Wikia is a free-to-use site that makes money from advertising. We have a modified experience for viewers using ad blockers

Wikia is not accessible if you've made further modifications. Remove the custom ad blocker rule(s) and the page will load as expected.